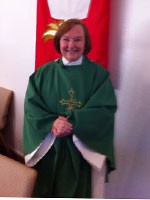 Pastor Jennifer Schaefer graduated from Albright College in Reading, PA in 1981 with a BA in Government Service/International Relations. She then graduated from the Lutheran Theological Seminary at Philadelphia in 1985 with a Master of Divinity. Ordained on June 9, 1985, Pastor Schaefer has served in both the Metropolitan New York Synod of the ELCA as well as the Florida/Bahamas Synod. Her first call was as Associate Pastor at Gloria Dei Lutheran Church in Huntington Station, Long Island from 1985-1987. She then served in the Catskill Lutheran Parish (Christ Church, Ellenville; First Church, Jeffersonville; and Grace Church, North Branch, New York) from 1987-1991. Called to Holy Trinity, Rockville Centre, NY, she served as Co-Pastor from 1991-1998 until accepting the call to serve at Good Shepherd Lutheran Church in Tampa, Florida from 1998-2008.
Pastor Jen served as Interim/Transition Pastor at Lutheran Church of the Palms in Palm Harbor from 2008-2010, at Hope Lutheran Church in St. Petersburg from 2010-2011. Pastor Jen and her husband served together at Emmanuel, Venice from 2011-2013 until her husband was elected Bishop of the Florida/Bahamas Synod of the ELCA. She then served as interim at Trinity Lutheran Church in St. Petersburg from Jan. through August, 2014.
Pastor Jen then began an interim ministry at Hope on September 14, 2014.  Once the call process began, the Call Committee asked the congregation to extend a 2/3 Call to Pastor Jen on December 13, 2015.  She accepted the Call and began her ministry as Pastor of Hope Lutheran Church in Gulf Cove on January 1, 2016.
Pastor Jen has been married to Bishop Robert Schaefer since 1984. They have three adult daughters: Elizabeth, Katherine, and Christina. They also have a grandson, Chase, who was born in March, 2010. The Schaefer family resides in Venice, Florida.