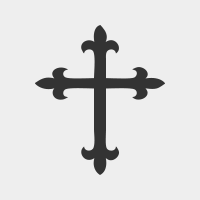 Christ the King Sunday – November 20-21, 2021
December 8, 2021
Christ the King Sunday~~~November 20-21, 2021
The Prayer of the Day        Almighty and ever-living God, you anointed your beloved Son to be priest and sovereign forever. Grant that all the people of the earth, now divided by the power of sin, may be united by the glorious and gentle rule of Jesus Christ, our Savior and Lord, who lives and reigns with you and the Holy Spirit, one God, now and forever.  Amen.
Gospel:   John 18:33-37
In John's gospel, the story of Jesus and Pilate presents two different ways of exercising power: through force or with love.
33Pilate entered the headquarters again, summoned Jesus, and asked him, "Are you the King of the Jews?" 34Jesus answered, "Do you ask this on your own, or did others tell you about me?" 35Pilate replied, "I am not a Jew, am I? Your own nation and the chief priests have handed you over to me. What have you done?" 36Jesus answered, "My kingdom is not from this world. If my kingdom were from this world, my followers would be fighting to keep me from being handed over to the Jews. But as it is, my kingdom is not from here." 37Pilate asked him, "So you are a king?" Jesus answered, "You say that I am a king. For this I was born, and for this I came into the world, to testify to the truth. Everyone who belongs to the truth listens to my voice."     The gospel of the Lord.  Praise to you, O Christ.
 HOMILY   Today is Christ the King Sunday as we celebrate Christ as King over everything-our world, the universe, all creation, and US.  If Christ is our King, that means we are his subjects, citizens of his kingdom, called to obey and follow our King who loves us enough to die for us.  We are entrusted with many things-We have time, talents, and possessions that aren't really ours-they all come from and belong to God who created us, but we are entrusted as stewards to use the time, talents and possessions in the best possible way for the building up of Christ's kingdom. 
It is said that stewardship is EVERYTHING we do after we say "I believe.".    Every action, every gesture, every thought or opinion, every bit of service or work or kindness or caregiving-it is all driven by our faith as people who say "I believe." 
We believe that God created the heavens and the earth-all that is.
We believe in Jesus Christ, his only Son, our Lord.  Jesus was born FOR US, lived FOR US, and DIED on the cross FOR US so that we might be forgiven our sins and have life forever with him in heaven. 
W believe that the Holy Spirit leads us and guides us to follow Christ our King, to live out our faith in our daily lives, and to share the love and forgiveness of Christ with all.  We do that as stewards who care for and use the gifts entrusted to us for godly purposes and outcomes individually as well as a congregation, the building up of God's kingdom in Jesus' name-doing God's work with our hands as we are led by the Spirit to serve God and share Christ's love with all. 
This is Commitment Sunday at Hope Lutheran Church.  As you share your gifts, you ask God to encourage and support you as you share them through Hope Lutheran Church-gifts God placed in your hands for use in Jesus' name. 
As disciples of Jesus and citizens of the Kingdom of Christ our King, the King who loved us enough to die for us, we offer up our very lives back to him in gratitude and thanksgiving for his love, his forgiveness, and his promise that we are forever his. Our very lives point to his truth. May God bless each of you, my fellow stewards!! Remember, being a good steward, a faithful disciple, a citizen of Christ's kingdom., is everything we do after we say "I believe".  Amen.
Prayers of Intercession
Eternal God, you hold firm amid the changes of this world. Hear us now as we pray for the church, the world, and everyone in need.    A brief silence.
God, you sent your Son Jesus to testify to the truth. We pray for preachers, missionaries, evangelists, and teachers who carry your forgiveness and love to the world. Fill their words and actions with compassion and kindness so that your truth will shine. Hear us, O God, your mercy is great.
God, you sent your Son Jesus to liberate all of creation. We pray for all living things longing for the freedom to flourish, from ancient trees and wild grasses to endangered animals and rare insects. Give human beings compassionate hearts to care for them. Hear us, O God, your mercy is great.
God, you sent your Son Jesus to lead us into the way of peace. Direct the members of international alliances in choosing a nonviolent path toward the future. Give them the humility and wisdom to make just decisions to benefit all. Hear us, O God, your mercy is great.
God, you sent your Son Jesus to make us into your own people, set free to serve you. We pray for people who serve the well-being of others, especially ministries in our community (local social ministries or agencies may be named). Renew them in their work. Hear us, O God, your mercy is great.
God, you sent your Son Jesus to rule in all times and places. We pray for the friends of our congregation who are unable to join our worship in person and for all who are sick and suffering (especially). Join their prayers with ours and unite them with us in the body of Christ. Hear us, O God, your mercy is great.
God, you sent your Son Jesus to be our beginning and our ending. We give thanks for those whose lives have given us a glimpse of Jesus' reign of justice and peace. Empower us to join their witness. Hear us, O God, your mercy is great.
God our hope and strength, we entrust to you all for whom we pray. Remain with us always, through Jesus Christ, our Savior.   Amen.
Our Father…..
The blessing of the living God, Father, Son, and Holy Spirit, surround and sustain us, keep us from harm, and fill us with courage. Amen.
Let us go out into the world in peace, sharing the Good News of Jesus and his love,  as together we are led by the Spirit to serve God and share Christ's love with all!  Thanks be to God!
HOPE HAPPENINGS
 We welcome all who worship with us today.  Please complete one of the visitor cards at our guest table.  If you would like to make Hope your church home, please speak to Pastor Jen.  Everyone is welcome at Hope Lutheran Church.
Next Week's Readings:  Jeremiah 33:14-16; 1 Thessalonians 3;9-13; Luke 21:25-36
The October through December Word in Season Devotionals are available on the narthex table.
LAY SERVANTS                                                                  
Altar Guild:  Gail Zahs & Delores Hall
Usher:  Mark Packer
Counters:  Pastor Cheryll Armstrong Kaukis and Karl Kaukis
PRAYER LIST
Please call the church office or email Pr. Jen with any prayer requests you may have so they may be shared with the congregation. 
 Please continue to hold in prayer:
Al Stuever for healing
Evan for healing
Jim  for healing
Fred and Cindy Carley for healing
Pat Hinton for healing
Sandy Garant for healing
Kim for healing
John Hodler for healing
Jan for healing
Vanessa for healing
Maxine Linn (Mark Packer's Mother)
Richard Massey and Rick for healing
Doreen Parkinson for healing
Herb Sixbury for healing
Dawn Seibert for healing
Carol for healing, hope, and God's will.
Laura Everill, daughter of Phyllis and Tom Agness, for healing.
John Greene, Millie's husband, for strength and healing & healing for all their family
Cheryl Burke who is in need of healing
Larry and Barbara Brady, as they focus on healing.
 NEW AT HOPE
 KINDNESS KORNER:  All of you have done kindnesses for others in ways big and small.  Take moment (or two) to appreciate yourself and how you have done God's work with your hands.  Appreciate yourself as an act of kindness!
 SAVE THE DATE:  Hope Lutheran Bazaar scheduled for December 4, 2021.  If you know of any vendors that would like to rent space, please contact Cindy Beicht or Candy Ogden.
BIBLE STUDY:  On Monday's, we have a study from 10 to 11am.  Join us for an overview of the Bible.  Study with us God's love story for his people!  All are welcome!
THANKSGIVING EVE:  Worship Wednesday November 24 at 4:30p.  We will collect Manischewitz grape wine for Holy Communion and canned goods for the pantry.