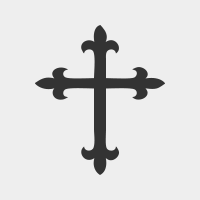 11/21-22/2020 Christ the King Sunday
November 22, 2020
Dearest Brothers and Sisters in Christ at Hope Lutheran Church,
John Wesley once wrote:
Do all the good you can, by all the means you can, in all the ways you can, in all the places you can, at all the times you can, to all the people you can, as long as you ever can.
Such a beautiful rule to live by-echoing Jesus call to be kind, compassionate, loving, giving, forgiving, and accepting of all people as he has been kind, compassionate, loving, giving, forgiving, and accepting of us.
As we look to the end of this liturgical year and the beginning of a new church year with Advent on the final weekend of November, let us re-commit ourselves to following our Good Shepherd, Christ our King, who calls us to be his sheep, living lives of love that reflect his life and love in a world that desperately needs it.  Together, let's be led by the Spirit to serve God and share Christ's love with all-we do it, because we CAN!!!                                                      
I love each of you and pray for you!  Pr. Jen+
Christ the King Sunday      November 21-22 2020
PRAYER OF THE DAY    Let us pray. O God of power and might, your Son shows us the way of service, and in him we inherit the riches of your grace. Give us the wisdom to know what is right and the strength to serve the world you have made, through Jesus Christ, our Savior and Lord, who lives and reigns with you and the Holy Spirit, one God, now and forever.  Amen.
READING Gospel: Matthew 25:31-46   Jesus compares himself to a king who moves among his subjects to see how he is treated: what is done for the least of those who belong to his family is truly done for him.                                                                                                              
A reading from Matthew .  [Jesus said to the disciples:]  31"When the Son of Man comes in his glory, and all the angels with him, then he will sit on the throne of his glory.  32All the nations will be gathered before him, and he will separate people one from another as a shepherd separates the sheep from the goats,  33and he will put the sheep at his right hand and the goats at the left.  34Then the king will say to those at his right hand, 'Come, you that are blessed by my Father, inherit the kingdom prepared for you from the foundation of the world;  35for I was hungry and you gave me food, I was thirsty and you gave me something to drink, I was a stranger and you welcomed me,  36I was naked and you gave me clothing, I was sick and you took care of me, I was in prison and you visited me.'  37Then the righteous will answer him, 'Lord, when was it that we saw you hungry and gave you food, or thirsty and gave you something to drink?  38And when was it that we saw you a stranger and welcomed you, or naked and gave you clothing?  39And when was it that we saw you sick or in prison and visited you?'  40And the king will answer them, 'Truly I tell you, just as you did it to one of the least of these who are members of my family you did it to me.'  41Then he will say to those at his left hand, 'You that are accursed, depart from me into the eternal fire prepared for the devil and his angels;  42for I was hungry and you gave me no food, I was thirsty and you gave me nothing to drink,  43I was a stranger and you did not welcome me, naked and you did not give me clothing, sick and in prison and you did not visit me.'  44Then they also will answer, 'Lord, when was it that we saw you hungry or thirsty or a stranger or naked or sick or in prison, and did not take care of you?'  45Then he will answer them, 'Truly I tell you, just as you did not do it to one of the least of these, you did not do it to me.'  46And these will go away into eternal punishment, but the righteous into eternal life."    The Word of the Lord.  Thanks be to God.
HOMILY:  A young police officer was taking his final exam for the police academy. And he comes across this question:  "You are on patrol in the outer city when an explosion occurs in a gas main in a nearby street. On investigation you find that a large hole has been blown in the sidewalk and there is an overturned.  Inside the van there is a strong smell of alcohol. Both occupants—a man and a woman—are injured. You recognize the woman as the wife of your Chief of Police, who is at present at a conference in a nearby city. You don't recognize the man. A passing motorist stops to offer you assistance and you realize that he is a man who is wanted for armed robbery. Suddenly a man runs out of a nearby house, shouting that his wife is expecting a baby and that the shock of the explosion has made the birth imminent. Another man is crying for help, having been blown in the adjacent canal by the explosion, and he cannot swim.  Describe in a few words what actions you would take."  The young man thought for a moment, picked up his pen and wrote, "I would take off my uniform and mingle with the crowd."  I can relate-how about you??                         
~~~And this parable is one of the times pastors wish to be sitting there instead of standing here because at first glance it seems to preach a gospel of salvation by works-that God saves us because of all the good stuff that we DO- that runs contrary to the whole of the New Testament teaching that salvation is by grace alone-God's love freely given to us through Jesus and his cross..  For St Paul says ; "8For it is by grace you have been saved, through faith—and this not from yourselves, it is the gift of God— 9not by works, so that no one can boast. 10For we are God's workmanship, created in Christ Jesus to do good works, which God prepared in advance for us to do." (Eph 2:8-10)  So what is the parable all about?    As Lutherans, we teach that God's love and saving us motivates us to do the good works, NOT that our works motivate God to love and save us.                                                                                             
~~~I think the key to this parable is the nature of the sheep and the nature of the goat. In Israel, in Jesus day it was difficult to tell the sheep from the goats. They look very similar. The difference however is in their nature.  As one commentator has written: "The earliest animals to be domesticated were sheep and goats. They are very common in the Middle East, and the Hebrew language is particularly rich in vocabulary that distinguishes sheep from goats.  Our ancestors in the faith were impressed that sheep suffer in silence.  They compared men to sheep and considered suffering in silence to be the sign of a real man (Isa 53:7; Acts 8:32-35; Mark 15:25-37).   Sheep came to symbolize honor, virility, and strength.                                     
~~~~Goats were considered lazier, unreliable animals. Goats symbolized shame and shameful behavior. "                                                                ~~~A Jewish commentator writes:  "Although goat's milk was widely used as a remedy for a chest cold (Proverbs 27:27), the rabbis frowned upon the rearing of goats.  Goats were regarded as "armed robbers who would jump over people's fences and destroy their plants"                                                                                   
~~~~The sheep represent those who are disciples of Christ – members of the flock-and Christlike qualities come out in their relationship with others.  In other words, following Christ is not following a set of rules but having a new nature – that is we become changed people-people who love God by loving others. Put more theologically we are being changed daily – if we are true disciples of Christ . We become more of a "holy people".  What do I mean by a holy people?  People who are dedicated to following Christ, the Good Shepherd.   People who do God's work with their hands-who are led by the Spirit to serve God and share Christ's love with all.                                                                              ~~~~The goat represents those who have decided not to follow Christ-those who are not of the flock. Jesus gave us two great rules to govern life in our society. The first was this. To "Love the Lord your God with all your heart, with all your soul and with all your mind (Mt 22:37) The second was to "Love your neighbor as yourself" (Mt 22:39)  Jesus said that you will know Christians by their fruits (Mt. 7:20 – Jn 15:1-4). People will know that we follow Christ our King as we share his love in the world-not OUR love, but the love of Jesus, our King. And Jesus tells us exactly what that looks like-feeding the hungry, welcoming, caring for others-LOVING.                                                                                      ~~~~The sheep in the parable didn't even realize that they were serving Christ by feeding the hungry and thirsty. It was simply in their nature to do so.  The challenge to us today is not to struggle to do good, but to allow the Holy Spirit to change our lives.  We can't change ourselves from being goats to sheep – but God can  if we trust, love, and follow him– if we will allow him-changing our hearts, changing our nature, so that as we follow our Good Shepherd, our Beautiful Savior, the King of creation, the people around us won't just HEAR us talk about his love-they will SEE it lived out as we follow Christ our King as we love him by loving his people.  Amen.
PRAYERS OF INTERCESSION   Longing for Christ's reign to come among us, we pray for the outpouring of God's power on the church, the world, and all in need.  A brief silence.
King of all, train our ears to hear your cry in the needs of those around us. Bless all social ministries of the church through which we seek to serve others as we ourselves have been served. Hear us, O God.  Your mercy is great.
King of all, you cause rain to fall on the just and unjust alike. Direct our use of creation to provide for the needs of all people in ways that are sustainable for the earth. Protect all in paths of natural disasters. Hear us, O God. Your mercy is great.
King of all, bring peace to every place where conflict rages. Grant opportunities for ending divisions among us and usher in your reign of unity and reconciliation. Hear us, O God. Your mercy is great.
King of all, heal the sinful divisions we erect between us and release us from systems of oppression and prejudice. Restore our capacity to see your image in those whose dignity we have stripped away. Comfort those in need of your care, especially…  Hear us, O God. Your mercy is great.
King of all, thank you for saints now departed who fed the hungry, clothed the naked, and tended to the sick. Inspire us by their example, that we may see your presence in those in need around us. Hear us, O God. Your mercy is great.
Receive our prayers in the name of Jesus Christ our Savior and King, until that day when you gather all creation around your throne where you will reign forever and ever. Amen.
OUR FATHER…
BLESSING  Almighty God, the Father, + the Son, and the Holy Spirit be with us now and always.  Amen.
DISMISSAL   We go in peace with grateful hearts for all God has done for us as together we are led by the Spirit to serve God and share Christ's love with all!   Thanks be to God!!!.
HOPE HAPPENINGS
We welcome all who worship with us today.  Please complete one of the visitor cards at our guest table.  If you would like to make Hope your church home, please speak to Pastor Jen.  Everyone is welcome at Hope Lutheran Church.
Next Week's Readings: Isaiah 64:1-9; I Corinthians 1:3-9; Mark 13:24-37
The October thru December Word in Season Devotionals are available on the narthex table.
PRAYER LIST
Please call the church office or email Pr. Jen with any prayer requests you may have so they may be shared with the congregation. 
Please continue to hold in prayer: 
Ted Foltz, brother in law of Delores Hall, for healing
Barbara Musgraves for healing from shingles
Lily for God's protection and love
Kathy's friend for healing and love
Carol for healing, hope, and God's Will
Bob Kostrowsky for healing
Laura Everill, daughter of Phyllis and Tom Agness, residing in a healthcare facility
Walter Crowley, husband of Kathryn and father of Ginger Toomire recovering from pneumonia
Joyce,  sister in law of Elaine Dougan, recovering from brain cancer surgery
John Greene, Millie's husband, for strength and healing
Cheryl Burke who is in need of healing
Larry and Barbara Brady, as they focus on healing
Pr. Pat for healing
Sandy for healing
Jean and David for healing
Ian, nephew of Barbara Johnson, as he goes through testing
Susan for healing
Jason for healing
Pr. Marilyn for healing
Bobby Toomire and Ginger for healing
Healing for all those infected by Covid 19
For all people to remain safe and show wisdom and love to all
NEW AT HOPE
HOPE'S LOVE PANTRY UPDATE Many of our neighbors have become aware of Hope's Love Pantry and are using it regularly.  In these hard times where there are many layoffs due to the virus, help is needed for food & supplies.  Hope Lutheran Church's Love Pantry is open to anyone in need and it is refilled twice weekly.  Donations may be left in the pantry or containers located to the left of the main entrance of the church.
BIBLES AND BAGELS Please join us Mondays from 10:00 – 11:00 AM for Bible Study and sharing in the Fellowship Hall.  Physical Distancing and sharing in Scripture and discussion are blessings we can share together!!  All are welcome
WORSHIP OPPORTUNITY AT HOPE!!  Wednesdays at 10:00 AM there will be worship in the parking lot for all those who wish to join us for prayer, a brief homily and study of Scripture and sharing in the Eucharist.  Prayer is always a good thing, but considering how things are in our community, our country, and our world right now, our calling as Christians is to be even more fervent and vigilant in our payers, focusing our attention on God's Word and sharing in the life-giving and hope-filled gift of Jesus' Body and Blood in Holy Communion.   ALL ARE WELCOME!  Spread the Word!!  
BIBLE STUDY ON THE ACT OF THE APOSTLES ONLINE!!!!
Pr. Cheryll Armstrong-Kaukis is hosting a new Bible Study based on the amazing book of Acts.  If you would like to be a part of this group, please contact either the church office or Pr Cheryll directly at 
 and let her know to sign you up!  Please join us as we discover anew the growth of the church in the earliest days and how that impacts our faith today!!
NEW FM RADIO STATION. Anyone can now listen to worship in their vehicles by tuning into FM Radio station 88.3.  All services will be broadcast on radio station FM 88.3.
HYMN REQUESTS       If there are any particular hymns that you would like to hear at worship, please submit the names to Pastor Jen at 
.  If our licensing agreement permits, look forward to hearing them soon.
HOPES AND DREAMS FOR HOPE – If you have a suggestion for a Hope or Dream for Hope Lutheran Church, Pastor Jen and your council would love to hear it.  Please feel free to place any Hope or Dream in the mailbox in the hallway leading to the Fellowship Hall.  All requests will be kept confidential and you will receive a timely response. 
BLOOD DRIVE Save the Date – November 22, 2020 in the parking lot. 
ADVENT WEDNESDAY SERVICES will be held on December 2nd, 9th, 16th at 4pm in the parking lot. Join us as we prepare to greet the one born at Christmas, Emmanuel, God with us.
COMMUNITY CHRISTMAS CAROLING – Save the date – Sunday, December 20, 2020  4pm.  All are welcome!! 
CHRISTMAS EVE WORSHIP will be held at 4:00 PM, 5:30 PM in the parking lot, and 7:00 PM.  Christmas Day will be held at 10:00 AM in the parking lot. 
Thanksgiving Eve worship on Wed. Nov. 25 at 4pm in the parking lot.  All are welcome!
New Year's Eve Dec 31 at 4pm in the parking lot.