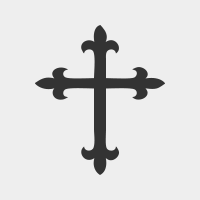 01/09-10/2021 Baptism of our Lord
January 10, 2021
Dearest Brothers and Sisters of hope Lutheran Church.
In one of the devotional apps I have on my iphone, an author suggested four one-work open-ended prayers for us in this new year.  Each of these four words were to be a start of prayer and contemplation for us in our ongoing conversation with God.  I share them here because they might just be the kick-start we need early in January 2021 to guide our prayer life into a new and interesting direction.
First, to pray for LEARNING.  We pray for learning, that God presents us with new and ever-deeper opportunities to learn about our God, our relationship with God, and how that relationship can help us grow in our love and care for one another.  LEARNING.
The second is DIRECTION.  We pray for God's direction so that we might continue on the path we are called to follow as we are led by the Holy Spirit.  DIRECTION.
We pray for BLESSING.  We pray that we may be blessed, of course, but also that we might be a blessing to others.  And because God is as good as God is, when we bless others, the blessings come back to us in countless ways.  BLESSING.
The final word was SURPRISE.  We pray that God will continue to surprise us-by the beauty of creation, by the joys big and small we experience, by the ways God touches our lives in so many ways everyday.  SURPRISE.
LEARNING. DIRECTION. BLESSING. SURPRISE.  Words that might aid us in our prayer life as we grow in our relationship with God and our love for each other.
One last thing:  Author Rachel Marie Martin posted the following:
KIND.    Do you know that one of your greatest strengths is simply being kind?    You can change a life being kind.   You can give hope being kind.  You can bring joy being kind.  So listen, today choose to be kind.  Amen and amen.  My love is with you and my prayers are for you-              Pr. Jen +
Baptism of our Lord                    January 9-10, 2021
PRAYER OF THE DAY   Let us pray. Holy God, creator of light and giver of goodness, your voice moves over the waters. Immerse us in your grace, and transform us by your Spirit, that we may follow after your Son, Jesus Christ, our Savior and Lord, who lives and reigns with you and the Holy Spirit, one God, now and forever.  Amen.
READING  Mark 1:4-11   Mark's gospel reports the story of Jesus' baptism with some irony: the one on whom the Spirit descends is himself the one who will baptize others with the Holy Spirit.                                    
A reading from Mark.  4John the baptizer appeared in the wilderness, proclaiming a baptism of repentance for the forgiveness of sins.  5And people from the whole Judean countryside and all the people of Jerusalem were going out to him, and were baptized by him in the river Jordan, confessing their sins.  6Now John was clothed with camel's hair, with a leather belt around his waist, and he ate locusts and wild honey.  7He proclaimed, "The one who is more powerful than I is coming after me; I am not worthy to stoop down and untie the thong of his sandals.  8I have baptized you with water; but he will baptize you with the Holy Spirit."  9In those days Jesus came from Nazareth of Galilee and was baptized by John in the Jordan.  10And just as he was coming up out of the water, he saw the heavens torn apart and the Spirit descending like a dove on him.  11And a voice came from heaven, "You are my Son, the Beloved; with you I am well pleased."  The Word of the Lord.  Thanks be to God.
HOMILY  Each of the four Gospels begins in their own unique manner. Matthew, for example, begins with a lengthy genealogy of Jesus, tracing his Jewish lineage all the way back to Abraham. Luke begins with an introduction that reads like part memoir and part history textbook. John, for his part, utilizes poetry to introduce theological themes that continue throughout his Gospel.  But Mark is in a category unto himself. He never offers a genealogy of Jesus at all, never claims to be writing history, and moves at such a breakneck pace that there is little time for theology and certainly no time for poetry. Instead, Mark jumps right in and opens on the banks of the river Jordan, as Jesus is baptized.
~~~Given that today is the first Sunday after the Epiphany-the Baptism of our Lord, we continue in lectionary year B which began at the first Sunday in Advent-a yearlong reading of the Gospel of Mark. And although the lectionary begins in the fourth verse of the first chapter of the Gospel of Mark, it bears pointing out that the first three verses of the chapter lend important clues about just what kind of Gospel Mark is writing, and how best readers ancient and modern should read it.   Here are those three verses from the beginning of Mark  "  1 The beginning of the good news ] of Jesus Christ, the Son of God.  2 As it is written in the prophet Isaiah, "See, I am sending my messenger ahead of you, who will prepare your way; 3 the voice of one crying out in the wilderness:  'Prepare the way of the Lord, make his paths straight,'"                                                                                                           
~~~For starters, it is no accident that Mark's Gospel doesn't make it past the first two sentences without quoting the Hebrew Bible—in particular, Isaiah. Mark, like Jesus , knew the Jewish scriptures well and quoted them often. He narrates the story of Jesus' life, death, and resurrection, not as a new story about God and God's people, but rather as a pivotal moment in the larger story of God making God's own self known in human history. The God we meet in Jesus, Mark tells us, is the same God spoken of in the Hebrew scriptures, who is doing a new thing.                                                      
~~~The second thing these omitted introductory verses point out is that this Gospel that Mark has written—literally "good news"—is not all that can or should be said of Jesus of Nazareth. Rather, Mark makes clear from the first words of his Gospel that this is, "The beginning of the good news of Jesus Christ, the Son of God."
~~~Mark makes these two important points just prior to launching into the story of Jesus' baptism because it turns out that baptism works in much the same way. In baptism, we don't stop being who we are or get to ignore the history that shapes us. Just as Jesus doesn't stop being Mary's boy from Bethlehem, God become human, so too are we all someone from somewhere—for better or worse.  When we come to the waters of baptism, we bring all of that with us—all of our humanity; all of the ways in which our families of origin and experiences have made us who we are—the good, the bad, and the ugly-the baggage and the blessings!  We come to the waters just as we are, and God makes something new of us,                                                                                                                          
~~~And in the same way that Mark's Gospel is the beginning rather than the sum total of all that can be said of Jesus, so too baptism isn't a sacramental participation trophy to be displayed in a lighted and locked cabinet. It isn't the case that a little dab will do you like Brill cream.  Baptized doesn't equal saved.  It's not the golden ticket into heaven as many might think.  Baptism is the beginning of our life in relationship with the living God, made known to us in Jesus the Christ.                                                     
~~~The baptized life is not a career that we can pursue part-time, or one day retire from. It is a calling meant to be lived out with every fiber of our being. That's why it's so important that we renew our baptismal vows over and over again, share in confession over and over again, and share in the feast of Christ's body and blood over and over again, and read and study Scripture over and over again—because we human beings are forgetful people!  We nee to keep working on our Baptismal calling -to keep trying to be the people God calls us to be.  That's how God makes something new of us-calling and re-calling, forgiving and forgiving again as we sin and then confess and then try to once again be the people he has called us to be.   We forget-but God NEVER does.                                                                                     
~~~An essential part of the Christian life is reminding one another who and whose we are. We do that by extending and receiving grace and mercy, by opening ourselves up to vulnerability, and ultimately by telling the story of the God we meet in Jesus.  It is a life lived in community-even a community with masks and physical distancing for now because of pandemic- a community with each other as together we are led by God's Spirit to serve God and share Christ's love with all people-and we help and support one another as we do this along the way.   We commit ourselves as Jesus' followers to speaking truth with love, to work in creating justice, mercy, kindness, and decency.  We try to be Jesus to one another.                                                                                  
~~~In Mark's Gospel alone, the word "immediately" appears 42 times—three times more often than in the rest of the New Testament and seven times more often than in the entire Old Testament. It is as if Mark's style of writing is a sermon in itself: Just as the story of Jesus' life, death, and resurrection moves at a breakneck pace, so too does the life of the baptized! The work is urgent!    Look around and you see it-the world needs Baptized people of God living out our call to love one another.                                                    
~~~That's why when Jesus is baptized, Mark wants us to feel the water and smell the breeze and see the spectacle! That's why, when he describes the heavens opening, he says they were torn apart as God's voice declares Jesus to be God's own Beloved!  It's urgent-it's life-changing-it's beyond a miracle.  Baptism is you calling and mine to follow Jesus as he invites us to be his disciples.                                                 ~~~~If we want life to remain exactly as it is, and if we want to stay exactly where we are, doing exactly what we're doing, perhaps we should re-think baptism and the Christian life.  But if we desire a life dedicated to following the living God, as we work together to build God's kingdom, then the place to start is at the water's edge.  Baptismal water washing us clean and moving us forward in Jesus' name. Together, let's each find a good pair of shoes and a sturdy walking stick because the journey has just begun, and the work of the Kingdom is far too urgent to wait. Amen.
PRAYERS OF INTERCESSION   Guided by Christ made known to the nations, let us offer our prayers for the church, the world, and all people in need.  A brief silence.
For the church throughout the world and its leaders, that guided by the Holy Spirit they proclaim the forgiveness of sins, let us pray.  Have mercy, O God.
For wilderness and water, wind and wild beasts, and all living things on earth, that God's goodness is revealed through creation and faithful stewards care for all God has made, let us pray.  Have mercy, O God.
For the nations of the world and their leaders, for laborers busy both day and night, and for peacemakers amid strife, that God inspire all people to use their strength wisely, let us pray.  Have mercy, O God.
For the sick and those who provide medical care, for the imprisoned and those who show them mercy, for the lonely and those who provide companionship, for all who suffer ( especially), that God shower compassion, let us pray.  Have mercy, O God.
In thanksgiving for the faithful departed who now rest from their labors, that their witness inspire us in our baptismal vocations, let us pray. Have mercy, O God.
Merciful God, hear the prayers of your people, spoken or silent, for the sake of the one who dwells among us, your Son, Jesus Christ our Savior.  Amen.
OUR FATHER…
BLESSING  Almighty God, the Father, + the Son, and the Holy Spirit be with us now and always.  Amen.
DISMISSAL  We go in peace with grateful hearts for all God has done for us as together we are led by the Spirit to serve God and share Christ's love with all!   Thanks be to God!!!.
HOPE HAPPENINGS  We welcome all who worship with us today.  Please complete one of the visitor cards at our guest table.  If you would like to make Hope your church home, please speak to Pastor Jen.  Everyone is welcome at Hope Lutheran Church.
Next Week's Readings:  1 Samuel 3:1-10 [11-20]; 1 Corinthians 6:12-20; John 1:43-51
The January thru March Word in Season Devotionals are available on the narthex table.
PRAYER LIST  Please call the church office or email Pr. Jen with any prayer requests you may have so they may be shared with the congregation.    
Please continue to hold in prayer: 
Ron Ogdan for healing and strength
Joann Ogden, Ron's mother for healing
Helen for healing
George Whalen for healing
Kristin, Ron and Carolyn Rasmussen's daughter, for healing after surgery
Jean Holcomb for comfort as she mourns the death of David
Florence, Lou Szepi's mom, for God's comforting presence
Bob Kostrowsky for healing
Dawn Seibert for healing
Carol for healing, hope, and God's will.
Laura Everill, daughter of Phyllis and Tom Agness, residing in a healthcare facility
Walter Crowley, husband of Kathryn and father of Ginger Toomire recovering from pneumonia
Joyce,  sister in law of Elaine Dougan, recovering from brain cancer surgery
John Greene, Millie's husband, for strength and healing
Cheryl Burke who is in need of healing
Larry and Barbara Brady, as they focus on healing
Pr. Pat for healing
Susan for healing
Jason for healing
NEW AT HOPE
COUNCIL MEMBERS ELECTION will take place on the weekend of January 23-24, 2021.  The following were nominated for council positions.  Roberta Balint (2 nd year of 3 year term), Lorraine Maass, Candy Ogden, and Donna Turner.  Elections will take place after worship on the weekend of January 23-24, 2021.
MONDAY BIBLE STUDY on God sightings every Monday at 10:00 AM in the Fellowship Hall.
WOMEN OF HOPE –Please contact the nominating committee (Marlene Outherbridge, Cindy Beicht or Fran Kostrowsky) if you would like to be considered for an officer position for the upcoming term.  Next meeting January 17, 2021.
WORSHIP OPPORTUNITY AT HOPE!!  Wednesdays at 10:00 AM there will be worship in the parking lot for all those who wish to join us for prayer, a brief homily and study of Scripture and sharing in the Eucharist.
HYMN REQUESTS       
If there are any particular hymns that you would like to hear at worship, please submit the names to Pastor Jen at 
.  If our licensing agreement permits, look forward to hearing them soon.
HOPES AND DREAMS FOR HOPE – If you have a suggestion for a Hope or Dream for Hope Lutheran Church, Pastor Jen and your council would love to hear it.  Please feel free to place any Hope or Dream in the mailbox in the hallway leading to the Fellowship Hall.  All requests will be kept confidential and you will receive a timely response.